Manager:
Hank Bauer
Record:
97-63
Ballpark:
Memorial Stadium
Owner:
Jerry Hoffberger
GM:
Harry Dalton
Coaches:
Harry Brecheen, Billy Hunter, Sherm Lollar, Gene Woodling
Future Hall of Famers:
Luis Aparicio, Jim Palmer, Brooks Robinson, Frank Robinson
All-Stars:
Steve Barber, Andy Etchebarren, Brooks Robinson, Frank Robinson
Team Leaders, Batting

BA:
Frank Robinson, .316 (AL leader)
OBP:
Frank Robinson, .410 (AL leader)
SLG:
Frank Robinson, .637 (AL leader)
OPS:
Frank Robinson, 1.047 (AL leader)
2B:
Brooks Robinson, 35
3B:
Luis Aparicio, 8
HR:
Frank Robinson, 49 (AL leader)
RBI:
Frank Robinson, 122 (AL leader)
BB:
Frank Robinson, 87
SB:
Luis Aparicio, 25
Team Leaders, Pitching

W:
Jim Palmer, 15
SO:
Dave McNally, 158
ERA:
Dave McNally, 3.17
IP:
Dave McNally, 213
CG:
Jim Palmer, 6
SHO:
Steve Barber, 3
K/BB:
Dave McNally, 2.47
SV:
Stu Miller, 18
Tidbits
Oldest Player:
Stu Miller (b. December 26, 1927)
Youngest Player:
Jim Palmer (b. October 15, 1945)
First to Leave Us:
Charlie Lau (d. March 18, 1984)
Last Survivor:
Most are still living as of the date of this post.
First in Majors:
Dick Hall (debut April 15, 1952)
Last in Majors:
Jim Palmer (final game May 12, 1984)
First to Play For the Franchise:
Brooks Robinson (September 17, 1955)
Last to Play For the Franchise:
Jim Palmer (May 12, 1984)
Pre-union Team:
The 1960 Athletics (Dick Hall, Bob Johnson, Russ Snyder) and 1962 White Sox (Luis Aparicio, Cam Carreon, Eddie Fisher) each had three. The Athletic players were teammates of Hank Bauer at the end of his playing career, but all three were acquired before Bauer became manager of the Orioles.
Reunion Team:
Several teams had three of these guys: the 1968-69 Senators (Frank Bertaina, Sam Bowens, Mike Epstein), 1968 White Sox (Luis Aparicio, Woodie Held, Russ Snyder), 1969 Pilots (Steve Barber, Gene Brabender, Larry Haney), 1969-70 Royals (Jerry Adair, Wally Bunker, Moe Drabowsky), 1972 Athletics (Curt Blefary, Mike Epstein, Larry Haney) and 1973 Angels (Steve Barber, Mike Epstein, Frank Robinson). Some connections are apparent here: Oriole GM Harry Dalton served as Angel GM in 1973, and Oriole farm director Lou Gorman held the same position for the Royals in their formative years.
Accomplishments
Frank Robinson, Triple Crown
Frank Robinson, AL MVP
Brooks Robinson, AL Third Base Gold Glove
Luis Aparicio, AL Shortstop Gold Glove
Season Summary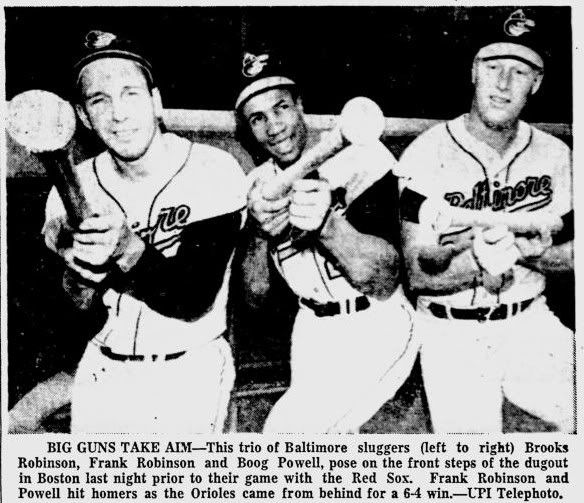 For years the Orioles had been a team with great pitching and average offense. In December 1965, new Oriole GM Harry Dalton decided to shift the balance a bit. Dalton traded All-Star pitcher Milt Pappas and two spare pieces to the Reds for veteran slugger Frank Robinson, whom Reds president Bill DeWitt claimed was "not a young 30." In his first season as an Oriole, Robinson turned out to be the story of the year; he homered in his first game with Baltimore and never looked back, winning the Triple Crown and MVP award. Robinson's superlative batwork boosted the Oriole offense to first in OPS+, runs per game and each of the slash stats, and they were a close second in home runs. It was a good thing they scored so often, because their pitching staff was just average. They posted a 102 ERA+, and despite a high team strikeout rate, several starters struggled with walks. By most measures, their team defense was middle-of-the-pack.
If it hadn't been for the hot-starting Indians, the Orioles might've nearly led wire-to-wire. Though they finished at .500, the Indians began the season on a 14-1 run and even held a 4.5-game lead in late May. The Cleveland cooloff process began in June, and the Orioles seized the opportunity to run away with the AL race. They were never out of first after June 7, and at one point their lead was 13.5 games. By season's end they were nine games ahead of the defending league champion Twins.
The Orioles' World Series opponent was another defending champion: the Los Angeles Dodgers, who'd taken the title the previous year. L.A. was the opposite of Baltimore: they weren't a great offensive club, but their pitching was outstanding, led by the great Sandy Koufax. Game 1 matched up the Orioles' Dave McNally with the Dodgers' Don Drysdale. The Orioles proved they weren't intimidated by Dodger pitching right out of the gate by scoring three runs in the top of the first. McNally was pulled in the bottom of the third after walking the bases loaded, and Jim Gilliam walked in the Dodgers' second run of the game against reliever Moe Drabowsky. Unbeknownst to the Dodgers, it would be their last run of the Series. Drabowsky pitched 6.2 scoreless innings in relief to complete the game, striking out 11 Dodgers as his team won 5-2. Game 2 was a matchup of young Jim Palmer vs. Koufax, and the future star outdueled the established one, pitching a four-hit shutout in game marred by six Dodger errors. Game 3 saw another young Oriole pitch a shutout; this time it was Wally Bunker, who won 1-0 backed by Paul Blair's solo homer. The Orioles completed the sweep in Game 4 behind the same pitching matchup as Game 1. The Dodger offense remained hapless, as McNally pitched the Orioles' third shutout in a row. Another solo homer, this time off Frank Robinson's bat, proved to be the only run of the game.
For his two homers, a triple and three RBI, Robinson capped off his stellar year with the World Series MVP award. For the Orioles, it was the first World Series title in franchise history, leaving the Phillies as the only member of the "Original 16" not yet to win one.
Acknowledgements:
Baseball Reference
Baseball Almanac
Google News Archives