Manager:
Walter Alston
Record:
99-63
Ballpark:
Dodger Stadium
Owner:
Walter O'Malley
GM:
Buzzie Bavasi
Coaches:
Joe Becker, Carroll Beringer, Leo Durocher, Greg Mulleavy, Pete Reiser
Future Hall of Famers:
Don Drysdale, Sandy Koufax
All-Stars:
Tommy Davis, Don Drysdale, Sandy Koufax, Maury Wills
Team Leaders, Batting

BA:
Tommy Davis, .326 (NL leader)
OBP:
Tommy Davis, .359
SLG:
Frank Howard, .518
OPS:
Frank Howard, .848
2B:
Jim Gilliam, 27
3B:
Willie Davis, 8
HR:
Frank Howard, 28
RBI:
Tommy Davis, 88
BB:
Jim Gilliam, 60
SB:
Maury Wills, 40 (NL leader)
Team Leaders, Pitching

W:
Sandy Koufax, 25 (NL leader)
SO:
Sandy Koufax, 306 (NL leader)
ERA:
Sandy Koufax, 1.88 (NL leader)
IP:
Don Drysdale, 315.1
CG:
Sandy Koufax, 20
SHO:
Sandy Koufax, 11 (NL leader)
K/BB:
Sandy Koufax, 5.28 (NL leader)
SV:
Ron Perranoski, 21
Tidbits
Oldest Player:
Daryl Spencer (b. July 13, 1928). Spencer was released in May, making Jim Gilliam (b. October 17, 1928) the Dodgers' oldest player for most of the season.
Youngest Player:
Dick Calmus (b. January 7, 1944)
First to Leave Us:
Jim Gilliam (d. October 8, 1978)
Last Survivor:
Most are still living as of the date of this post.
First in Majors:
Lee Walls (debut April 21, 1952)
Last in Majors:
Willie Davis (final game September 30, 1979)
First to Play For the Franchise:
Jim Gilliam (April 14, 1953)
Last to Play For the Franchise:
Ken McMullen (September 28, 1975)
Pre-union Team:
No team had more than two. The 1960's Dodger farm system was so deep that they didn't have much need to get their players elsewhere.
Reunion Team:
The 1965 Washington Senators with eight: Doug Camilli, Frank Howard, Ken McMullen, Dick Nen, Phil Ortega, Pete Richert, Nick Willhite and Don Zimmer. Senators manager and former Dodger Gil Hodges must've been heavily involved with player acquisitions, because those two teams did a lot of dealing between 1963 and 1965.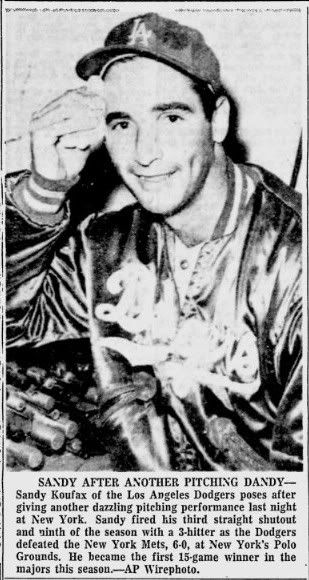 Accomplishments
Sandy Koufax, NL MVP
Sandy Koufax, Cy Young Award
Sandy Koufax, NL Pitching Triple Crown
Sandy Koufax, no-hitter on May 11
Season Summary
The Dodgers were preseason favorites for the National League pennant, and they lived up to those expectations. They were never out of first place after early July, and they finished seven games ahead of their closest opponent. The key was run prevention: Dodger Stadium was an extreme pitcher's park, and the Dodgers had two legitimate aces in Sandy Koufax and Don Drysdale. Koufax was clearly the better ace, going 25-5 with a 1.88 ERA to capture both the Cy Young and MVP Awards. Closer Ron Perranoski was the only other star on the Dodger staff, but overall the Boys in Blue led the league in strikeout rate and had the second-best walk rate. They didn't have that great a defense behind them according to DER and TotalZone, so it was fortunate that they didn't allow too many balls in play. The Dodger offense was third in OPS+ and first in stolen bases, but they were only sixth in runs per game thanks to their ballpark. Their batters were mostly contact hitters without much power; only Tommy Davis and Frank Howard packed a punch.
The World Series matched the Dodgers up with their old New York rivals, the Yankees. Koufax started Game 1 against Whitey Ford and whiffed a World Series-record 15 Yankee batters. He also went the distance, allowing only two runs on six hits to earn the win. The Dodgers turned to veteran Johnny Podres for Game 2, and while he didn't set any records, he turned in 8.1 innings of one-run ball to earn the Dodgers' second victory of the Series and send his team back to L.A. up 2-0. Drysdale dispensed more Dodger dominance with a three-hit shutout in Game 3, and Koufax helped them complete the sweep by outdueling Ford again in Game 4. For his two complete-game victories and 1.50 ERA, Koufax was named the World Series MVP. Altogether, the Dodger staff allowed only four runs, five walks and 22 hits in the four games, while striking out 37 batters.
Acknowledgements:
Baseball Reference
Baseball Almanac
Google News Archives