Manager:
Casey Stengel
Record:
95-59
Ballpark:
Yankee Stadium
Owner:
Dan Topping and Del Webb
GM:
George Weiss
Coaches:
Frankie Crosetti, Bill Dickey, Jim Turner
Future Hall of Famers:
Yogi Berra, Mickey Mantle, Johnny Mize, Phil Rizzuto
All-Stars:
Hank Bauer, Yogi Berra, Mickey Mantle, Gil McDougald, Vic Raschi, Allie Reynolds, Phil Rizzuto
Team Leaders, Batting

BA:
Mickey Mantle, .311
OBP:
Gene Woodling, .397
SLG:
Mickey Mantle, .530
OPS:
Mickey Mantle, .924 (AL leader)
2B:
Mickey Mantle, 37
3B:
Phil Rizzuto, 10
HR:
Yogi Berra, 30
RBI:
Yogi Berra, 98
BB:
Mickey Mantle, 75
SB:
Phil Rizzuto, 17
Team Leaders, Pitching

W:
Allie Reynolds, 20
SO:
Allie Reynolds, 160 (AL leader)
ERA:
Allie Reynolds, 2.06 (AL leader)
IP:
Allie Reynolds, 244.1
CG:
Allie Reynolds, 24
SHO:
Allie Reynolds, 6 (AL leader)
K/BB:
Allie Reynolds, 1.65
SV:
Johnny Sain, 7
Tidbits
Oldest Player:
Johnny Mize (b. January 7, 1913)
Youngest Player:
Mickey Mantle (b. October 20, 1931)
First to Leave Us:
Ray Scarborough (d. July 1, 1982)
Last Survivor:
Four are still alive as of May 21, 2017: Bobby Brown, Irv Noren, Art Schallock, and Charlie Silvera.
First in Majors:
Johnny Mize (debut April 16, 1936)
Last in Majors:
Mickey Mantle (final game September 28, 1968)
First to Play For the Franchise:
Charlie Keller (April 22, 1939). The veteran Keller returned to the Yankees for two games in September after suffering through two injury-plagued seasons with Detroit.
Last to Play For the Franchise:
Mickey Mantle (September 28, 1968)
Pre-union Team:
The 1946 Indians (Bob Kuzava, Allie Reynolds, Gene Woodling) and 1950 Senators (Bob Kuzava, Irv Noren, Ray Scarborough) each had three.
Reunion Team:
The 1955 Orioles had seven: Bob Kuzava, Ed Lopat, Jim McDonald, Bill Miller, Art Schallock, Kal Segrist and Gene Woodling. Surprisingly, only four of those seven were part of the record-setting November 1954 blockbuster where a total of 17 players were swapped.
Season Summary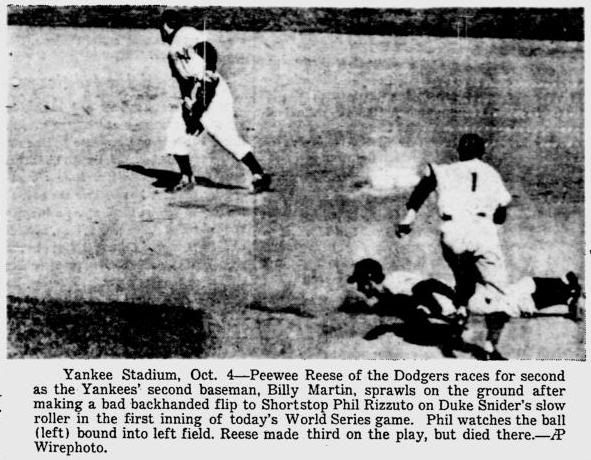 After winning three straight World Series the Yankees continued their run as the class of the American League in 1952. Sophomore Mickey Mantle had his first great season, taking over in center field for Joe DiMaggio and leading the AL with a 162 OPS+. The Yankees tied Cleveland for the best team OPS+, and were second only to the White Sox in ERA+. Their pitching staff was slightly below-average in walk rate, but their good strikeout rate and strong team defense helped make up for it. They were never out of first place after June 14, though the Indians once again stayed on their heels the whole way. The Yanks' lead was never more than five games during that period, and they won the pennant by only two.
The Yankees opposed the Brooklyn Dodgers in the World Series for the fourth time in twelve years. The teams alternated wins in the first six games, Brooklyn taking the odds and New York claiming the evens. Only one of the first six matches was decided by more than two runs, that being the Yankees' 7-1 victory in Game 2. Game 7 was another close one, and the most memorable play of the Series came in the seventh inning. With the Yankees leading 4-2 the Dodgers had the bases loaded and two out. On a tricky infield popup the pitcher and first baseman lost track of the ball, forcing young second baseman Billy Martin to run in for a diving catch that ended the inning and preserved the lead. The Dodgers didn't threaten in the final two innings, giving the Bronx Bombers their fourth straight World Series title.
The Yankees set two team records for a World Series: most home runs (10) and most pitching strikeouts (49). Vic Raschi and Allie Reynolds contributed 18 punchouts each to the hurlers' cause.
Acknowledgements:
Baseball Reference
Baseball Almanac
Google News Archives