Manager:
Casey Stengel
Record:
97-57
Ballpark:
Yankee Stadium
Owner:
Dan Topping and Del Webb
GM:
George Weiss
Coaches:
Frankie Crosetti, Bill Dickey, Jim Turner
Future Hall of Famers:
Yogi Berra, Joe DiMaggio, Johnny Mize, Phil Rizzuto
All-Stars:
Yogi Berra, Joe DiMaggio, Tommy Henrich, Vic Raschi, Allie Reynolds
Team Leaders, Batting

BA:
Tommy Henrich, .287
OBP:
Tommy Henrich, .416
SLG:
Tommy Henrich, .526
OPS:
Tommy Henrich, .942
2B:
Phil Rizzuto, 22
3B:
Phil Rizzuto, Gene Woodling, 7
HR:
Tommy Henrich, 24
RBI:
Yogi Berra, 91
BB:
Tommy Henrich, 86
SB:
Phil Rizzuto, 18
(Note: Henrich is only listed as leader in the rate stats because Joe DiMaggio didn't have enough at-bats to qualify.)
Team Leaders, Pitching

W:
Vic Raschi, 21
SO:
Tommy Byrne, 129
ERA:
Ed Lopat, 3.26
IP:
Vic Raschi, 274.2
CG:
Vic Raschi, 21
SHO:
Ed Lopat, 4
K/BB:
Ed Lopat, 1.01
SV:
Joe Page, 27 (AL leader)
Tidbits
Oldest Player:
Johnny Mize (b. January 7, 1913)
Youngest Player:
Jim Delsing (b. November 13, 1925)
First to Leave Us:
Hugh Casey (d. July 3, 1951). Casey was dealt several personal hardships after his career ended, driving him to suicide just two years after playing his final Major League game.
Last Survivor:
Three are still living as of September 30, 2015: Bobby Brown, Fenton Mole and Charlie Silvera.
First in Majors:
Hugh Casey (debut April 29, 1935)
Last in Majors:
Yogi Berra (May 9, 1965)
First to Play For the Franchise:
Joe DiMaggio (May 3, 1936)
Last to Play For the Franchise:
Yogi Berra (September 28, 1963)
Pre-union Team:
The 1942 Giants, 1943 Indians, 1946 Indians and 1946-47 Giants each had two.
Reunion Team:
The 1951 St. Louis Browns (Tommy Byrne, Jim Delsing, Cliff Mapes, Duane Pillette and Fred Sanford).
Season Summary
The Yankees parted with manager Bucky Harris after the 1948 season and replaced him with Casey Stengel, fresh off a minor league pennant with the PCL's Oakland Oaks. Many questioned the move; Stengel was a great character, but he'd never managed a first-division club in his nine years of Major League skippering. Further complicating matters, the Yankees started the season without their best player, Joe DiMaggio, whose bum heel kept him out for most of the first half. Injuries and other ailments would plague the Bombers all year; Phil Rizzuto led the team with 153 games played, while Jerry Coleman's 128 were a distant second.
Improbably, the Yankees almost led wire-to-wire. It was only a late-season surge by the Red Sox that prevented it. As if written for Hollywood, Boston's final stop on the schedule was a two-game series in New York. The Red Sox held a one-game lead going into it, but the Yanks would take both contests to win the pennant. Johnny Lindell's eighth-inning homer won the first game, while Vic Raschi pitched a five-hitter in the second.
The Yankees' offense was a clear second-fiddle to the Red Sox'. Boston led in most major categories, but the Yanks were second in OPS+, the slash stats and runs per game. They did have perhaps the AL's best baserunning; their 58 stolen bases were second in the league, and their 30 caught stealings gave them the best success percentage. The Yanks' rival in the run prevention department was the Indians; their DER, ERA+ and runs allowed per game were second only to Cleveland. The Bombers had a staff of fireballers without the best control (namely Allie Reynolds, Vic Raschi and Tommy Byrne). They led the league in both strikeouts and walks (as well as hit batsmen), giving them a middle-of-the-pack strikeout-to-walk ratio. The Yankee bullpen, led by Joe Page, did knock the Indians into second place with 36 saves, almost twice as many as the Tribe.
The World Series matched them up with the Brooklyn Dodgers for the third time. They split the first two games on a pair of 1-0 shutouts, but it was all Yankees after that. New York outscored Brooklyn 20-13 over the last three games, winning them all. The Yankee stars for the Series were third baseman Bobby Brown, whose 1.488 OPS and five RBI led the team, and Allie Reynolds, who pitched 12.1 innings of shutout ball.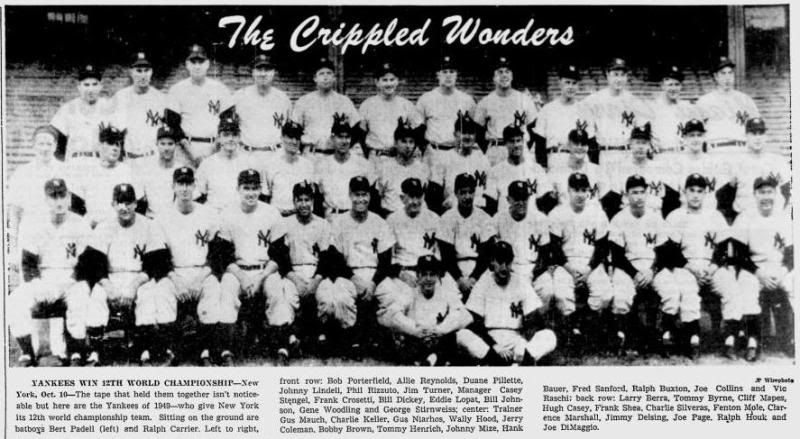 Acknowledgements:
Baseball Reference
Baseball Almanac
Google News Archives