Manager:
Bucky Harris
Record:
97-57
Ballpark:
Yankee Stadium
Owners:
Larry MacPhail, Dan Topping and Del Webb
GM:
Larry MacPhail
Coaches:
Red Corriden, Frankie Crosetti, Chuck Dressen, Johnny Schulte
Future Hall of Famers:
Yogi Berra, Joe DiMaggio, Phil Rizzuto
All-Stars:
Spud Chandler, Joe DiMaggio, Tommy Henrich, Billy Johnson, Charlie Keller, George McQuinn, Joe Page, Aaron Robinson, Spec Shea
Team Leaders, Batting

BA:
Joe DiMaggio, .315
OBP:
George McQuinn, .395
SLG:
Joe DiMaggio, .522
OPS:
Joe DiMaggio, .913
2B:
Tommy Henrich, 35
3B:
Tommy Henrich, 13 (AL leader)
HR:
Joe DiMaggio, 20
RBI:
Tommy Henrich, 98
BB:
Snuffy Stirnweiss, 89
SB:
Phil Rizzuto, 11
Team Leaders, Pitching

W:
Allie Reynolds, 19
SO:
Allie Reynolds, 129
ERA:
Spec Shea, 3.07
IP:
Allie Reynolds, 241.2
CG:
Allie Reynolds, 17
SHO:
Allie Reynolds, 4
K/BB:
Allie Reynolds, 1.05
SV:
Joe Page, 17 (AL leader)
Tidbits

Oldest Player:
Bobo Newsom (b. August 11, 1907)
Youngest Player:
Don Johnson (b. November 12, 1926)
First to Leave Us:
Snuffy Stirnweiss (d. September 15, 1958). Stirnweiss tragically died in a Newark Bay commuter train accident at the age of 39.
Last Survivor:
As of January 2017, Bobby Brown is the only one living.
First in Majors:
Bobo Newsom (debut September 11, 1929)
Last in Majors:
Yogi Berra (final game May 9, 1965)
First to Play For the Franchise:
Frankie Crosetti (April 12, 1932)
Last to Play For the Franchise:
Yogi Berra (September 28, 1963)
Pre-union Team:
The 1946 Indians had Sherm Lollar, Ray Mack, Allie Reynolds and Ted Sepkowski. The four players were acquired in three separate transactions.
Reunion Team:
The 1950-51 Browns (Tommy Byrne (1951), Don Johnson, Sherm Lollar, Dick Starr and Snuffy Stirnweiss (1950)) and 1952 Senators (Randy Gumpert, Don Johnson, Bobo Newsom and Spec Shea) each had four.
Accomplishments
Joe DiMaggio, AL MVP
Season Summary
The previous two years had been a period of transition for the Yankee franchise. Larry MacPhail, Dan Topping and Del Webb purchased the team from the Jacob Ruppert estate in January 1945, and 1946 turned out to be a farewell tour for the old guard. Longtime manager Joe McCarthy resigned in May, iconic GM Ed Barrow severed his ties with the franchise in December, and veterans Bill Dickey, Joe Gordon, Johnny Murphy and Red Ruffing all played their final games in pinstripes that year. 1947 represented the beginning of a new era for the Yankees; it was the start of an 18-year run where they'd win an astounding 15 pennants and ten World Series.
As is Yankee tradition, the 1947 team had an incredible offense. Their 111 OPS+ was far and away the league's best mark, and they averaged half a run per game more than anyone else. They led the league in homers, batting average and slugging average. They trailed the AL in stolen bases, but their league-best 72 triples indicated that they had some good speed on their roster. They were a strong fielding team, with their fielding percentage and DER both trailing only the Indians. Their pitching staff both walked and struck out the most batters, but their K/BB ratio was good for second-best in the league. Overall, the Yanks allowed the fewest runs per game.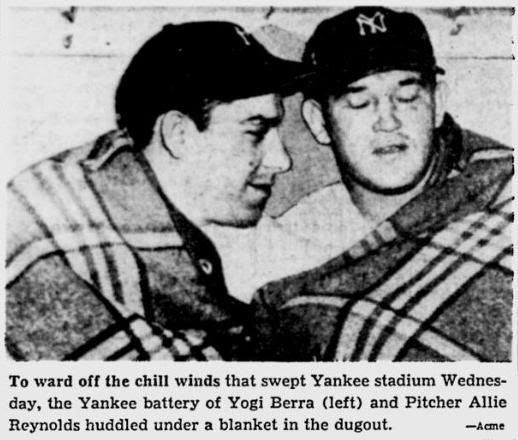 The Bronx Bombers got off to a decent enough start, but they found themselves behind the Tigers early on. On June 5, in a game against those same Tigers, the Yankees lost Charlie Keller, their leading home run hitter, to a spine injury. Fortunately, the Yankees had enough depth to overcome the loss. While he was no Keller, Johnny Lindell proved a capable substitute in left field for the rest of the season. On June 13 the Yankees were 27-23, only a game and a half out of first. They went an incredible 31-3 over the next month (capped by a 19-game winning streak) to put themselves 11.5 games ahead of the pack, and the rest of the season was a breeze.
The World Series featured a matchup that would occur six times over the next ten years: New York Yankees vs. Brooklyn Dodgers. The showdown went an exciting seven games. Its most memorable moments were a no-hitter by Yankee hurler Bill Bevens broken up with two out in the ninth of Game 4, and an incredible catch by Dodger outfielder Al Gionfriddo which robbed Joe DiMaggio of a homer in Game 6. The Yankees got the go-ahead run in Game 7 on Tommy Henrich's fourth-inning single, and relief ace Joe Page allowed only one hit over the last five frames to ensure victory.
Immediately after the Yankees clinched the title, GM and part-owner Larry MacPhail announced he was retiring from the front office. At a championship party later, a drunken MacPhail started fistfighting with several guests, prompting Topping and Webb to buy out his shares that night. MacPhail's Hall of Fame baseball career was over, and the Yankees appointed another Hall of Famer as his successor: farm director George Weiss.
Acknowledgements:
Baseball Reference
Baseball Almanac
Google News Archives