Manager:
Sparky Anderson
Record:
108-54
Ballpark:
Riverfront Stadium
Owner:
Louis Nippert
GM:
Bob Howsam
Coaches:
Alex Grammas, Ted Kluszewski, George Scherger, Larry Shepard
Future Hall of Famers:
Johnny Bench, Joe Morgan, Tony Perez
All-Stars:
Johnny Bench, Dave Concepcion, Joe Morgan, Tony Perez, Pete Rose
Team Leaders, Batting
BA:
Joe Morgan, .327
OBP:
Joe Morgan, .466 (NL leader)
SLG:
Johnny Bench, .519
OPS:
Joe Morgan, .974 (NL leader)
2B:
Pete Rose, 47 (NL leader)
3B:
Ken Griffey, 9
HR:
Johnny Bench, 28
RBI:
Johnny Bench, 110
BB:
Joe Morgan, 132 (NL leader)
SB:
Joe Morgan, 67
Team Leaders, Pitching
W:
Jack Billingham, Don Gullett, Gary Nolan, 15
SO:
Fred Norman, 119
ERA:
Gary Nolan, 3.16
IP:
Gary Nolan, 210.2
CG:
Don Gullett, 8
SHO:
Don Gullett, 3
K/BB:
Gary Nolan, 2.55
SV:
Rawly Eastwick, 22
Tidbits
Oldest Player:
Pete Rose (b. April 14, 1941)
Youngest Player:
Don Werner (b. March 8, 1953)
First to Leave Us:
Clay Kirby (d. October 11, 1991)
Last Survivor:
Most are still living as of the date of this post.
First in Majors:
Fred Norman (debut September 21, 1962)
Last in Majors:
Ken Griffey (final game May 31, 1991)
First to Play For the Franchise:
Pete Rose (April 8, 1963)
Last to Play For the Franchise:
Ken Griffey (August 17, 1990). The Reds won the World Series that year, but Griffey never got a champagne shower, as he was released down the stretch. The season was a memorable one for Griffey though; he joined the Mariners for the final month, and with his son Ken Jr. became the first father-son duo to hit back-to-back homers.
Pre-union Team:
The 1969-71 Astros had three: Jack Billingham, Cesar Geronimo and Joe Morgan. This trio was acquired by the Reds in one blockbuster trade before the 1972 season.
Reunion Team:
The 1979 Phillies (Rawly Eastwick, Pete Rose, John Vukovich), 1983 Phillies (Joe Morgan, Tony Perez, Pete Rose) and 1984 Expos (Dan Driessen, Doug Flynn, Pete Rose) each had three.
Accomplishments
Joe Morgan, NL MVP
Johnny Bench, NL Catcher Gold Glove
Joe Morgan, NL Second Base Gold Glove
Dave Concepcion, NL Shortstop Gold Glove
Cesar Geronimo, NL Outfield Gold Glove
Season Summary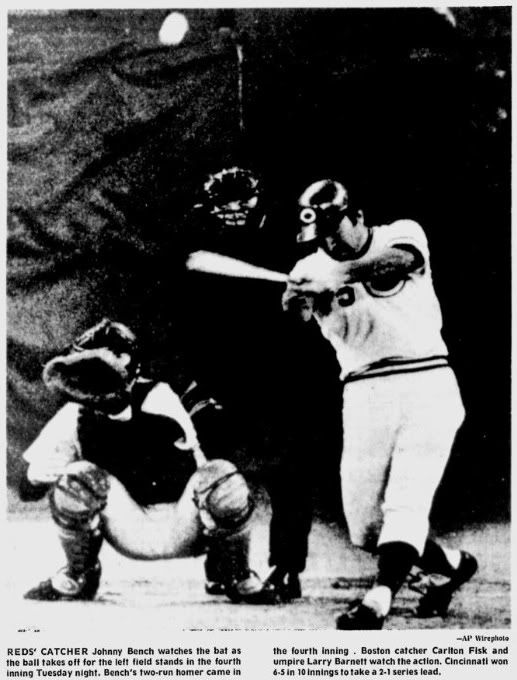 Since their pennant-winning season in 1970 the Reds had been widely known as the "Big Red Machine" for their offensive firepower. That machine, however, had always sputtered to a stop just short of a World Series title. In 1975 the Machine had its finest season ever, winning 108 games behind a lineup that scored 105 more runs than the next-best team. They led the NL in stolen bases (as well as success rate), walks and on-base percentage, and were second in batting average and third in homers. They also had the run preventive abilities to complement their offense; their defense was second in DER and TotalZone, and their staff of mostly finesse pitchers posted the league's third-best ERA+.
The 1975 season didn't exactly get off to a rip-roaring start. On May 2 the Reds were 12-12, and third baseman John Vukovich, named starter over 1974's defensively-challenged Dan Driessen, was a gaping hole in their batting order. The solution came through a radical change: left fielder Pete Rose would move to third, a position he'd only briefly played nine years earlier, and slugger George Foster would take over in left. There were some initial struggles, but once the players settled into their new roles the team became virtually unstoppable. On May 16 the Reds were 18-19; their record for the remainder of the season would be 90-35. They took over first place in early June, and a month later they'd built up a double-digit lead. They left the second-place Dodgers in their dust, winning the NL West by an astounding 20 games.
The Reds made quick work of the Pirates in the NLCS, sweeping them in three straight to meet the Boston Red Sox in the World Series. Boston wasn't nearly the powerhouse Cincinnati was, but they wouldn't go down without a fight. Red Sox ace Luis Tiant pitched a shutout in Game 1, and it took a ninth-inning rally for Cincinnati to win Game 2. The Reds won Game 3 on Joe Morgan's tenth-inning single (after a controversial non-interference call on pinch-hitter Ed Armbrister), but Tiant pitched the BoSox to another victory in Game 4. The Reds bounced back to win Game 5, leaving them one win away headed back to Boston. Game 6 was a see-saw affair. The Red Sox went up 3-0 early, only to have the Reds storm back for a 6-3 lead. With two out in the eighth, Boston pinch-hitter Bernie Carbo tied it with a three-run homer, and the Red Sox would win in the twelfth on a walkoff blast from Carlton Fisk.
The Red Sox took another early 3-0 lead in Game 7, but those runs were the last they'd score for the season. The Reds chipped away for the next few innings before finally taking the lead in the ninth on another Joe Morgan single. Boston went down in order in the bottom half, and for the first time since 1940 (before any of their players were born) the Cincinnati Reds were World Series Champions. After years of coming up short, the famous "Big Red Machine" had finally reached the pinnacle. Pete Rose, the man whose position change had sparked their dominant run, was named World Series MVP.
Acknowledgements:
Baseball Reference
Baseball Almanac
Google News Archives