Manager:
Casey Stengel
Record:
92-62
Ballpark:
Yankee Stadium
Owner:
Dan Topping & Del Webb
GM:
George Weiss
Coaches:
Frankie Crosetti, Ralph Houk, Jim Turner
Future Hall of Famers:
Yogi Berra, Whitey Ford, Mickey Mantle, Enos Slaughter
All-Stars:
Yogi Berra, Ryne Duren, Whitey Ford, Elston Howard, Tony Kubek, Mickey Mantle, Gil McDougald, Bill Skowron, Bob Turley
Team Leaders, Batting

BA:
Mickey Mantle, .304
OBP:
Mickey Mantle, .443
SLG:
Mickey Mantle, .592
OPS:
Mickey Mantle, 1.035
2B:
Hank Bauer, Bill Skowron, 22
3B:
Hank Bauer, 6
HR:
Mickey Mantle, 42 (AL leader)
RBI:
Mickey Mantle, 97
BB:
Mickey Mantle, 129 (AL leader)
SB:
Mickey Mantle, 18
Team Leaders, Pitching

W:
Bob Turley, 21 (AL leader)
SO:
Bob Turley, 168
ERA:
Whitey Ford, 2.01 (AL leader)
IP:
Bob Turley, 245.1
CG:
Bob Turley, 19 (AL leader)
SHO:
Whitey Ford, 7 (AL leader)
K/BB:
Whitey Ford, 2.34
SV:
Ryne Duren, 20 (AL leader)
Tidbits
Oldest Player:
Enos Slaughter (b. April 27, 1916)
Youngest Player:
Tony Kubek (b. October 12, 1935)
First to Leave Us:
Fritz Brickell (d. October 15, 1965). Brickell, a youngster who had a brief callup in April, died of cancer at the age of 30.
Last Survivor:
Nine are still living as of November 2, 2015.
First in Majors:
Enos Slaughter (debut April 19, 1938)
Last in Majors:
Elston Howard (final game September 29, 1968)
First to Play For the Franchise:
Yogi Berra (September 22, 1946)
Last to Play For the Franchise:
Mickey Mantle (September 28, 1968)
Pre-union Team:
The 1955-56 Kansas City Athletics had four: Art Ditmar, Bobby Shantz, Harry Simpson and Enos Slaughter.
Reunion Team:
The 1961 Kansas City Athletics had eight: Hank Bauer, Andy Carey, Bobby Del Greco, Art Ditmar, Don Larsen, Jerry Lumpe, Norm Siebern and Marv Throneberry. As you may well know, the Yankees and A's were frequent trade partners in those days.
Accomplishments
Bob Turley, Cy Young Award
Bobby Shantz, AL Pitcher Gold Glove
Norm Siebern, AL Left Field Gold Glove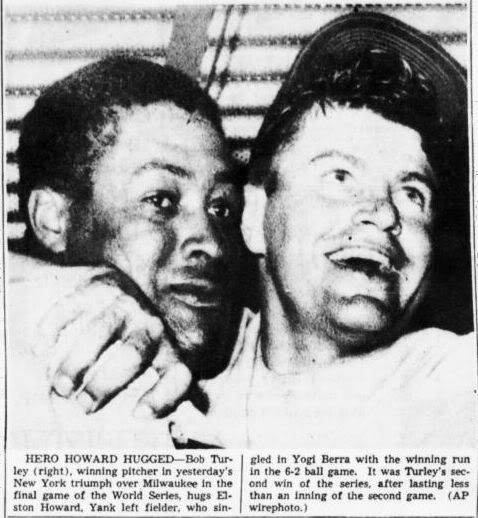 Season Summary
For the fourth straight season, and the ninth time in ten years, the Yankees won the American League pennant. Their season ended up being a cakewalk, as they got off to a hot start and held a double-digit lead from July onward. On August 2 in fact, the Yankees had a 17-game lead and
were the only AL team with a winning record
! They employed the usual formula: lots of homers, high batting average, power pitching and strong defense. There were some concerns with their pitching staff at the end of the season though. Their best hurlers began to struggle in the last two months, causing the team to finish with only a 92-62 record. It was still 10 games better than the rest of the weak AL, but they hardly looked like the all-time great team they resembled in the first four months.
The 1958 World Series offered the Bombers a chance at redemption, as they'd lost the big one to their opponent, the Milwaukee Braves, the previous season. Between their late-season struggles and a Braves team that knew it could beat them, it was no sure thing that the Yankees would pull it off. When the Braves jumped out to a 3-1 Series lead a repeat appeared imminent. It was Bob Turley, the Yanks' Cy Young winner, who kept the Braves' champagne on ice; in Game 5 he tossed a five-hit, ten-K shutout. Back in Milwaukee, the Yanks would take Game 6 in extra innings to send the Series to the maximum (for the fourth straight season). When Yankee starter Don Larsen got into a jam in the third inning of Game 7, Bob Turley once again came to the rescue. He pitched the final 6 2/3 innings and allowed only one run. The Yankees took the final lead with a four-run eighth inning against Lew Burdette, the Brave starter who'd beaten them three times in 1957. For his gutsy efforts, Turley was named World Series MVP.
Acknowledgements:
Baseball Reference
Baseball Almanac
Google News Archives
Forgotten upset: 1958 World Series
by Chris Jaffe of
The Hardball Times