Manager:
Casey Stengel
Record:
98-56
Ballpark:
Yankee Stadium
Owner:
Dan Topping and Del Webb
GM:
George Weiss
Coaches:
Frankie Crosetti, Bill Dickey, Jim Turner
Future Hall of Famers:
Yogi Berra, Joe DiMaggio, Whitey Ford, Johnny Mize, Phil Rizzuto
All-Stars:
Yogi Berra, Tommy Byrne, Jerry Coleman, Joe DiMaggio, Tommy Henrich, Vic Raschi, Allie Reynolds, Phil Rizzuto
Team Leaders, Batting

BA:
Phil Rizzuto, .324
OBP:
Phil Rizzuto, .418
SLG:
Joe DiMaggio, .585 (AL leader)
OPS:
Joe DiMaggio, .979
2B:
Phil Rizzuto, 36
3B:
Joe DiMaggio, Gene Woodling, 10
HR:
Joe DiMaggio, 32
RBI:
Yogi Berra, 124
BB:
Phil Rizzuto, 92
SB:
Phil Rizzuto, 12
Team Leaders, Pitching

W:
Vic Raschi, 21
SO:
Allie Reynolds, 160
ERA:
Ed Lopat, 3.47
IP:
Vic Raschi, 256.2
CG:
Vic Raschi, 17
SHO:
Ed Lopat, 3
K/BB:
Vic Raschi, 1.34
SV:
Joe Page, 13
Tidbits
Oldest Player:
Johnny Mize (b. January 7, 1913)
Youngest Player:
Billy Martin (b. May 16, 1928)
First to Leave Us:
Snuffy Stirnweiss (d. September 15, 1958)
Last Survivor:
Four are still living as of September 30, 2015: Bobby Brown, Whitey Ford, Charlie Silvera and Hank Workman.
First in Majors:
Johnny Mize (debut April 16, 1936)
Last in Majors:
Lew Burdette (final game July 16, 1967)
First to Play For the Franchise:
Joe DiMaggio (May 3, 1936)
Last to Play For the Franchise:
Whitey Ford (May 21, 1967)
Pre-union Team:
The 1946 Indians had three: Tom Ferrick, Allie Reynolds and Gene Woodling.
Reunion Team:
The 1951 Browns had six: Tommy Byrne, Jim Delsing, Don Johnson, Cliff Mapes, Duane Pillette and Fred Sanford. The Browns under Bill Veeck did a lot of dealing with the Yankees.
Accomplishments
Phil Rizzuto, AL MVP
Season Summary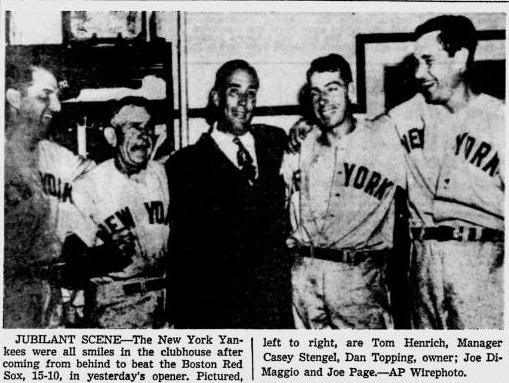 The Yankees tied for the best team OPS+, were third in homers and stolen bases, and averaged the second-most runs per game. Their run prevention was strong too, with their ERA+ third-best and their DER tied for second in the league. Their staff of fireballers was below average in walk rate, but they balanced it with a league-best strikeout rate. All in all, they allowed the second-fewest runs per game.
Their main rival in the pennant race was the Tigers. It was a back-and-forth battle between the two teams all year. On July 1 the slumping Yankees debuted a young rookie named Ed "Whitey" Ford in relief. While the Yanks would lose that game, Ford proved to be a star over the course of the season, going 9-1 with a 2.81 ERA on the year. On September 21 the Yankees and Tigers were tied with ten games left. Six of Detroit's final ten were against the Indians, who beat them in five of those matches, while the Yankees went 7-3 over the same stretch. Once again, the Yankees had pulled out the pennant.
The World Series matched the Yankees up with the surprising "Whiz Kid" Philadelphia Phillies. The Yankees were a heavy favorite on paper, but the Phillies were frustratingly close for most of the Series. The Yanks won in four games, but the first three were all low-scoring one-run victories. Game 4 would've been a 5-0 shutout had Gene Woodling's error not allowed two runs to score with two out in the ninth. In the end, Philly only scored five runs in the Series, and the Yankees had their 13th title.
Acknowledgements:
Baseball Reference
Google News Archives
Note to loyal reader David:
I apologize for my recent lack of posts. My internet went down a few days ago, and it's harder to put these things together when you have to use a public computer. Hopefully my internet will be working again soon and I'll be updating regularly!