Manager:
Billy Southworth
Record:
106-48
Ballpark:
Sportsman's Park
Owner:
Sam Breadon
GM:
Branch Rickey
Coaches:
Mike Gonzalez, Buzzy Wares
Future Hall of Famers:
Stan Musial, Enos Slaughter
All-Stars:
Jimmy Brown, Mort Cooper, Walker Cooper, Terry Moore, Enos Slaughter
Team Leaders, Batting

BA:
Enos Slaughter, .318
OBP:
Enos Slaughter, .412
SLG:
Enos Slaughter, .494
OPS:
Enos Slaughter, .906
2B:
Marty Marion, 38 (NL leader)
3B:
Enos Slaughter, 17 (NL leader)
HR:
Enos Slaughter, 13
RBI:
Enos Slaughter, 98
BB:
Enos Slaughter, 88
SB:
Johnny Hopp, 14
Team Leaders, Pitching

W:
Mort Cooper, 22 (NL leader)
SO:
Mort Cooper, 152
ERA:
Mort Cooper, 1.78 (NL leader)
IP:
Mort Cooper, 278.2
CG:
Mort Cooper, 22
SHO:
Mort Cooper, 10 (NL leader)
K/BB:
Mort Cooper, 2.24 (NL leader)
SV:
Harry Gumbert, 5
Tidbits

Oldest Player:
Estel Crabtree (b. August 19, 1903)
Youngest Player:
Howie Pollet (b. June 26, 1921)
First to Leave Us:
Mort Cooper (d. November 17, 1958)
Last Survivor:
Stan Musial (d. January 19, 2013)
First in Majors:
Gus Mancuso (debut April 30, 1928)
Last in Majors:
Stan Musial (final game September 29, 1963)
First to Play For the Franchise:
Gus Mancuso (April 30, 1928)
Last to Play For the Franchise:
Stan Musial (September 29, 1963)
Pre-union Team:
The 1935-36 Cubs (Ken O'Dea, Clyde Shoun, Lon Warneke) and 1937-41 Giants (Harry Gumbert, Bill Lohrmann, Gus Mancuso (1937-38) and Ken O'Dea (1939-41)) had three each.
Reunion Team:
The 1946-47 Braves had five each (Johnny Beazley (1947), Mort Cooper, Johnny Hopp, Ken O'Dea (1946), Ray Sanders (1946), Clyde Shoun (1947) and Ernie White). Billy Southworth brought so many former St. Louis players with him to Boston that the team was sometimes referred to as the "Cape Cod Cardinals."
Accomplishments
Mort Cooper, NL MVP
Season Summary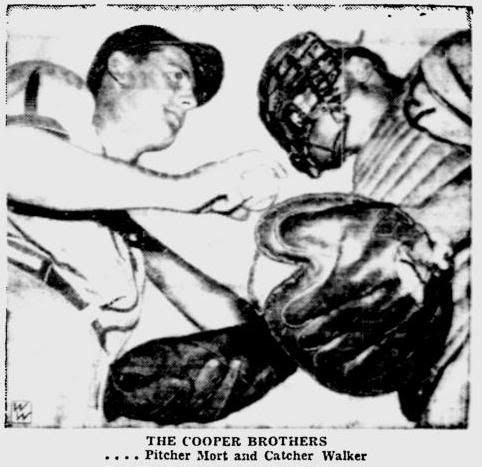 After a second-place finish in 1941 the Cardinals traded their best hitter, Johnny Mize, to the New York Giants. With up-and-comers Stan Musial, Whitey Kurowski and Walker Cooper joining the starting lineup they were able to absorb the loss. Third baseman Kurowski didn't become a starter until the end of May, when his predecessor Jimmy Brown was shifted to second to replace the light-hitting Creepy Crespi. They didn't hit a lot of homers, but they led the league in doubles, triples and batting average, which helped them score the NL's most runs per game. Their pitching staff also stepped it up, with an MVP season from Mort Cooper and a sensational rookie campaign from Johnny Beazley. In addition to scoring the most runs per game, they allowed the fewest. Their ERA+ was an incredible 135 and their 1.38 strikeout-to-walk ratio was league tops. Their DER was a close second to the Dodgers'.
With a record like 106-48 you'd probably think the Cardinals dominated their way to a pennant. In fact, it was a come-from-behind battle. They spent most of the season trailing the first-place Dodgers. On August 4 the Cards were ten games back before beginning an incredible pennant-winning run. They went 44-9 the rest of the way, tying the Dodgers on September 12 after sweeping them in a two-game series. Brooklyn went 10-4 for the remainder of the season, but it was no match for the Cardinals' 12-2 during the same span. Despite winning 104 games, including their last eight, the Dodgers had to settle for second place. This year belonged to the Cardinals.
The World Series pitted St. Louis against the New York Yankees, who'd won in each of their last eight World Series appearances. The Yankees' Red Ruffing pitched 7.2 innings of no-hit ball in Game 1 before allowing Terry Moore's single, and the Yankees went on to win 7-4. It would be New York's last victory of the season. The Cardinals won the next four games, with two youngsters coming up big in the finale. Beazley pitched a complete game victory, allowing only two runs, while Kurowski's two-run homer in the top of the ninth broke a 2-2 tie and provided the Cards with the winning margin.
At the end of October longtime general manager Branch Rickey, whose innovations and business sense had made the Cardinals one of the strongest organizations in baseball, signed on to run the team his Redbirds had just beaten for the pennant: The Brooklyn Dodgers.
Acknowledgements:
Baseball Reference
Baseball Almanac
Google News Archives