Last offseason on my now-defunct FoxSports blog I did a series of interviews with other bloggers about their baseball fandom. It ended up being a pretty popular series, and I don't know if I myself ever had more fun blogging than when I put those posts together. Now that the offseason is unfortunately here again we fans of the world's greatest sport need something to keep the flame burning. I thought I'd share those interviews over here so that they don't get relegated to obscurity. You probably won't know these bloggers, but if you're like me, you love hearing baseball fans talk about their memories of the game. Since these are from last offseason, a few of the questions and answers are a little dated, but it shouldn't make them any less enjoyable.

This is the fifth and final one I did, with btroup1, an Orioles fan.
1. What started you on this path? How and when did you become a baseball fan?
Around third grade. It was a perfect storm of sorts. I received a baseball card starter set with 100 or so Topps 1986 baseball cards. I put them in their plastic sheets, and read all the backs. Maybe that's why I took to the SABR stuff. That same year, we got cable. I thought it was cool that we got stations from around the country like TBS and WWOR (sorry Ian, they didn't have WGN or maybe we'd be brothers in arms). The Mets were good, and being a kid, having a fellow named Strawberry on the team is kind of magnetic. It would take an entire season before I could comprehend that there was an actual team in my area. Naturally, the year was 1988. I would show up at school, and it became fun to ask if the Orioles had won. "Nope." "No." "Not yet." "Maybe tonight." "Lost again." I'm running out of ways to say they lost. 0-21 was such a joke, but in a weird way, it helped my fandom. The next season, "the Why Not Orioles," was such an awesome season. It grabbed me, and coupled with the Dykstra trade by the Mets (and Straw and Dr K), I was full-blooded orange and black. I was a late bloomer, well compared to my son, at least. He attended his first game within months of walking. It was one of the greatest days of my life. More below...
2. Of all the baseball games you've attended, which one is your favorite?
I'll give you four for the price of one. But I'll choose a favorite.
-My son's first game was an adventure. Just he and I. Being the dad, I forget a coat for him. A mother would have brought two, one for the cold, another for a gentle breeze. The first two months of the season can provide the occasional windy day if you're in the wrong section. This was one of those days. I bought a little Oriole outfit for him. Then we get to our seats. I'm thinking, "I'll get four or five innings in, and we'll go from there." The kid sat in my lap the whole game. Helping matters was that it was Preakness week. The Saturday prior involves a balloon lift-off with hot air balloons. They flew right past the stadium and kept him occupied. After the game, we went to the harbor area to watch the rest of the balloons lift off.
-The best game I attended as a child was at Memorial Stadium. My mother took a friend and I
[as an 80s child of divorce, mothers found themselves doing things they would not ordinarily do. So thank your mom if she took you to a game. And if I ever see those insolent little snots that I saw a couple of years ago who sat in front of me complaining on a day their mom pulled them out of school early to go, I will fight you]
Eddie Murray won the game with a home run in the 10th. It was hit in our bleachers. Our little arms couldn't reach the ball, and I can still picture that braggart who did get it. Great job, you outmuscled some kids for a baseball.
-Winding down the 2007 season, we went to a game against the Royals. You can imagine the apathy. Each September a group of clowns walk around the stadium, imploring Angelos to sell. Since no one is there, they are an audible group. I thought, "this is what's wrong with us. We call ourselves fans, but act like children when the team isn't winning." In a 1-1 game heading towards the 8th, my son wanted to see the bullpens. As much as he likes the game, he also enjoys the intricacies of the stadia. We watched the final two innings standing above the bullpens. It's cool to talk smack (friendly smack) to the visiting closer as he warms up. Okay, it's cool to hear the ball whiz towards the catcher before popping the mitt. Anyhow, I remember looking around thinking, "There was a time when people gave a damn about this place. I SAT here (more below) for a playoff game." In the bottom of the 8th, Markakis hits the go ahead home-run into the bullpen area. As we watched the final outs in the top of the 9th, one of Baltimore's finest shouted up, "Hey! Is that your boy?" I thought, "Oh great, a leaning on the railing fascist." Anyway, I said "Yes." He said, "Here." I quickly had to reach out, realizing I was being tossed the home run ball. If I had the drive, I would have written about it. It has a "Tuesdays With Morrie" feel to it.
-Finally, the 1996 ALDS against Cleveland. The standing room areas had bleachers built. I sat in the one built above the bullpen. The Orioles won a squeaker, and eventually the series. Cleveland lost the Browns and the ALDS to Baltimore in the same year. Of course, karma caught up to the wire-to-wire Orioles of 1997.
Picking one, I'll take the first.
3. What did you think of Oriole Park at Camden Yards when it first opened?
Wow. When they opened that place, it was just so different from Memorial Stadium. First of all, if you asked how to get there, you were a dolt. Second, it didn't have a generic feel to it. Even at 13, I could feel the difference. That's how awesome it was. Nooks and crannies that all have their own story. The warehouse, and the promenade between it and the actual ballpark is a great stroll, and a great use of an historical building for modern purposes. The ushers, to this day, wipe down your seats before you sit in them. Plenty of bargains abound nowadays to see this club. If you have a modern home park, you may be inclined to think, "It'll be no big deal if I go." I still run into fans who come from these cities, and they say (seventeen years later) "They got this right. It's not over the top. It's not forced." Despite the nationwide praise, the Orioles have gone to a digitized look for their jumbotron and scoreboard. Hopefully they'll get the mix right on that.
4. What was your favorite season of following baseball?
My first season (1986) treated me to the greatest post-season I ever saw. That had to be the most pre-wild card postseason innings ever played. Even without MLB Network reminding me, I could tell you who Mike Scott, Bob Stanley, Calvin Schiraldi, Donnie Moore, and Dave Henderson are/were. But I'm willing to write that off as childhood romaticism.
The 1997 season was my favorite. I thought we were finishing the job. A lineup 1-9 with 20 HR? Pick your poison.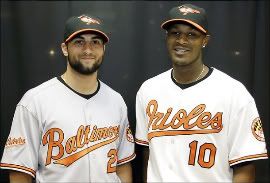 5. Are you glad the Orioles' road uniforms are back to saying "Baltimore"?
Sure. Angelos, Jacobs, and Williams kept them off so as not to alienate the Washington portion of the fan-base. It's no longer an issue, so give this team an identity.
6. I'll name some names and you tell me what comes to mind. It can be a thought, a memory, or whatever you want.
Craig Worthington =
The number of 3B during Cal's streak was staggering. He was seen as the best candidate (pre-Chris Sabo) to fill the void left by Brooks. If you're keeping score, it's 30 years and counting.
Randy Milligan =
Not Eddie Murray. But seemed a nice enough fellow who could hit 20 HR for your club. Sort of a Sam Horn Lite.
Chito Martinez =
Part of the crop of early-mid 90s prospects who teased fans with 15-20 HR in a partial season (Leo Gomez, Dellucci, Hammonds)
Alan Mills =
A GREAT fireman. If you want a comparable player to recent times, think Arthur Rhodes (another former O). Interesting (perhaps) was that he wore #75. He was a NRI who made the club. He retained the number as a reminder to himself that this is all fragile.
Jeffrey Hammonds =
A six-tool, can't-miss player. Yeah six tools. They invented tools for this guy. Honestly, he was a good player. It does you no good if you can't stay on the field. Knee injury after knee injury. Not a psychological bust like a Ryan Leaf.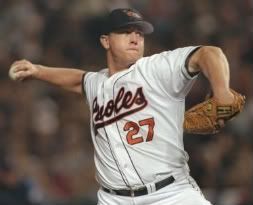 Just a physical one.
Rocky Coppinger =
Our Clay Buchholz. Once around the league, and he was a stud. Once you gave teams some tape, and gave Rocky a cheesesteak, that was it.
Lenny Webster =
The quintessential back-up catcher. Chris Hoiles was a fan favorite. There was a time when Hoiles was #2 in active career HR for catchers (behind some Piazza fellow). A Webster game was kind of like "aw man!" Seeing the backup catchers around the league nowadays, it's like "Find me a Lenny Webster!"
Buddy Groom =
Best of the worst. He seemed to excel here. In Detroit, I recall him being awful.
Ryan Kohlmeier =
I had to look him up. My memory was jogged slightly. This was part of the first attempt at rebuilding headed by Syd Thrift. Even after looking him up, I can only try a Loretta Lynn (Kohlmeier's daughter) joke.
7. Which former Orioles prospect disappointed you the most?
Ben McDonald. Not our Brien Taylor by any means. He had good seasons. He just never became our Randy Johnson. I don't recall him having the injury excuse as a fallback. I recall his dad being involved at some point in the beginning. If I recall, he ultimately flamed out in Milwaukee. Oh well, at least we still had that Schilling guy as a plan B. THEY DID WHAT!!!!!???????????
8. Do you think the Orioles would've won the pennant in 1996 if it hadn't been for Jeffrey Maier?
I honestly do. Wells would have gone the next game for the O's. He lived to pitch in Yankee Stadium, which is where the series would have returned.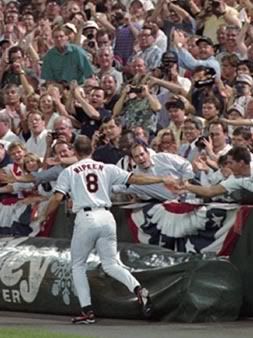 9. Did you ever think the adulation for Cal Ripken Jr. was a little excessive?
I do, but I don't think we should blame him for it. Though, it may have fed his ego a bit. Now we have videos espousing the "Ripken Way." Eh, come on. The lap around the field? Bobby Bo and Raffy seemed to egg it on a bit. I didn't hero worship the guy. Mixed emotions for sure. He went through horribly average stretches. But at the same time, there is a point of no return. Then once you break it, you can't just stop. Then it looks like you were playing for the record. Rock and a hard place.
As we progress in age I think we can agree, the game could use a few Cal Ripkens.
10. What changes would you make if you were in charge of Major League Baseball?
I would change the revenue sharing rules to force recipients to supplement their payrolls with the funds. I have also advocated the creation of a third major league, putting the non-traditional/poor clubs in one league. It's somewhere on the blog.
11. How optimistic are you about the Orioles' chances in the coming years?
I have been optimistic each year since 2004, so I'll continue that optimism. Last year, midway through the season, the O's were a top 10 club if you factored in run differential and schedule. All things being equal, this could be a third place club. In the East, it looks like 4th will be as good as it gets for now. But when Wieters comes up, the Orioles will have two players who are the best in baseball at their position (Markakis in RF, Wieters at C). How's that for a bold prediction? The jury is also out on Adam Jones and Felix Pie. I'd like to think we can be good enough while we control these players, boost attendance, and take that money to apply to long-term deals.
12. To sum things up, tell us what the game of baseball means to you.
It's a sport that creates many interesting arguments. It can be watched passively. It can be watched aggresively. I wish I could articulate it on some personal level. It has highs and lows. It provides memories and new opportunities (like that game against KC). It's a place where I can throw peanuts on the ground, or have something in common with a kid from West Baltimore for three hours. I don't know. If it's something that can be articulated in a mere sentence, it's something that may disappoint if not conforming to that sentence. So it's something that will always be there with an ever-evolving meaning. I may have a new perspective on this, as I'll be moving from the Camden Yards area and into a town with A ball. My trips to Camden will still exist, but fewer than now. It'll have a different meaning when that time comes.
btroup1 is yet another whose blog seems to have faded into oblivion. If you want to browse through his archive though, it's got some great stuff in it.